Discover an exclusive border tourism destination, where history stands tall. Nestled in Banaskantha, Gujarat, the Nadabet Indo-Pak Border is more than just a boundary line. It's a living reminder of key moments like the Indo-Pak War 1971 that have shaped our nation. As you explore, you'll find a mix of adventure, tales of bravery, and echoes of the past, all calling out to those eager to learn and experience.
Let us read on to know more about this border destination. 
Mapping Nadabet: A Geographical Overview
Nestled in the scenic landscapes of Banaskantha, Gujarat, the Nadabet Indo-Pak Border promises visitors an immersive journey. It's a chance to dive deep into the history of the Indo-Pak War, while also exploring thrilling adventure activities amidst the raw beauty of the region. Here, you can witness the valorous lives of the Border Security Force (BSF) Jawans, the unsung heroes who have, over decades, stood firm in protecting the nation.
Now, let us read about the history of the Nadabet Indo-Pak Border.
A Historical Journey of Nadabet Indo-Pak Border
The Nadabet Indo-Pak Border resonates with tales of grit, especially from the monumental Indo-Pak War in 1971. This place, a joint initiative by the Government of Gujarat and the BSF, is a beacon of India's steadfast First Line of Defence. A visit to this unique tourism destination of Gujarat ensures an indelible mark of patriotism and a salute to the sacrifices of these warriors.
The BSF Jawans have been playing a significant role in serving the nation in various ways. Let's explore their multifaceted contributions.
Guardians of the Frontier: BSF Jawans
The BSF has been the backbone not only during wartime but also during national crises. They have played significant roles during times like the Kargil conflict in 1999 and have extended their support beyond warfare. Their commendable assistance during calamities and the Covid pandemic, particularly in sensitising and supporting border communities, showcases their ceaseless dedication.
Building on the legacy of the BSF Jawans, the Nadabet Indo-Pak Border offers visitors a comprehensive experience, both in history and adventure.
A Spectrum of Attractions
Nadabet Seema Darshan extends a warm welcome to tourists for a unique experience laden with history, culture, and patriotism. Key attractions include:
A visual treat with murals narrating the stories of the BSF.
Zero Point lets visitors get closer to the Indo-Pak border than anywhere else, an unmissable feature of the Nadabet Seema Darshan.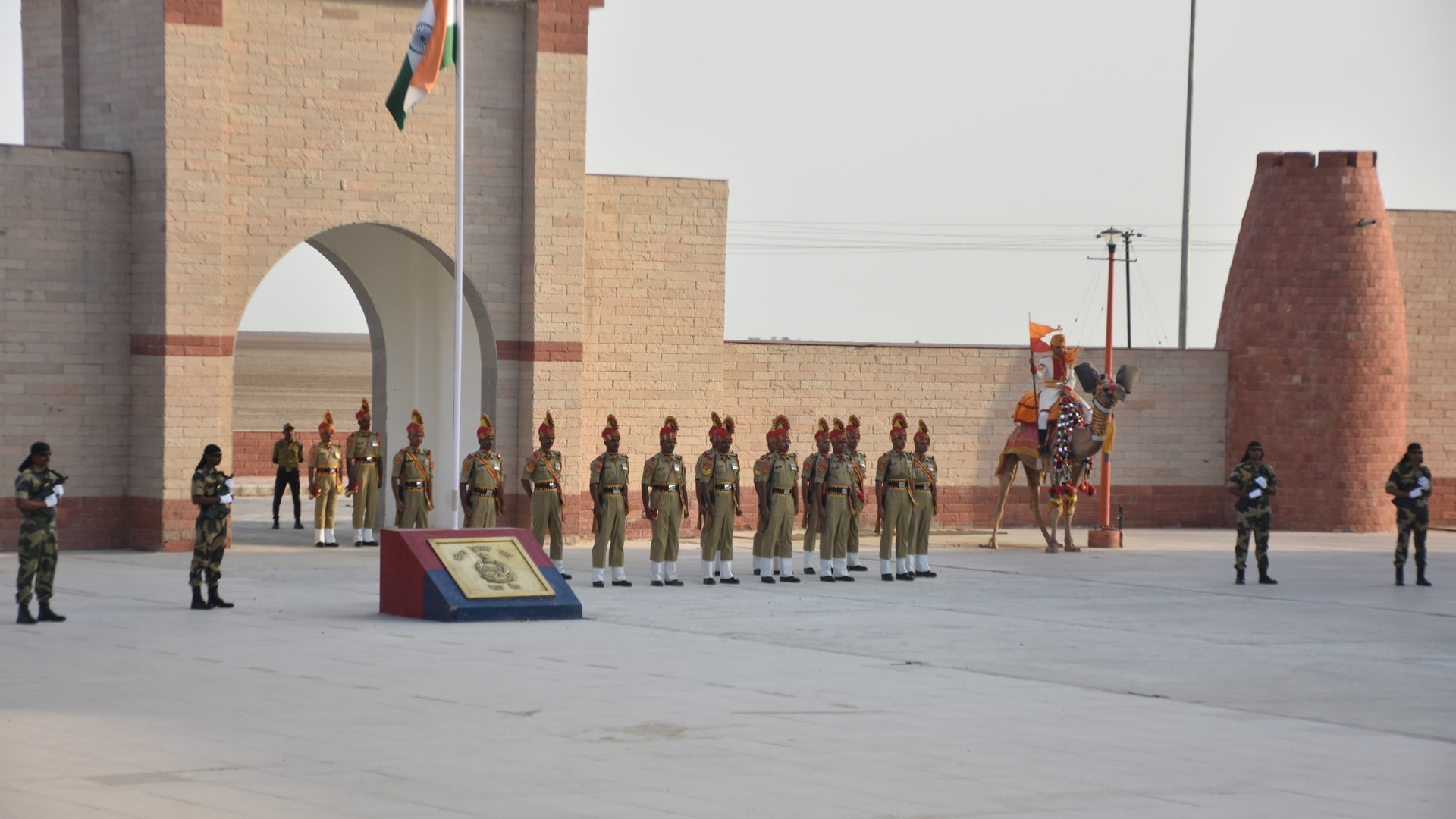 This awe-inspiring event showcases the unwavering discipline and valour of the BSF Jawans. Witnessing their precise drills and heartfelt salute to the national flag stirs deep patriotic sentiments, elevating the overall Nadabet Seema Darshan experience.
Further attractions include Ajeya Prahari Smarak, BSF Stambh, Sarhad Gatha (Museum), and Naam Namak Nishan (Art Gallery). For those with a thirst for adrenaline, The Nadabet Indo-Pak Border offers a range of thrilling activities, like Paint Ball, Free Fall, Zip Cycling and many more.
In addition to these interesting activities, the Nadabet Indo-Pak Border also holds a rich cultural essence for you to experience.
Witness the Vibrant Celebrations
The local cultural tapestry of the Nadabet Indo-Pak Border is a vibrant blend of tradition and festivity. Celebrations such as Garba, a dance form intrinsic to Gujarat's identity, reverberate with energy and enthusiasm, drawing participants and spectators alike. In addition to these, various local events and gatherings throughout the year showcase the depth and richness of Gujarat's cultural legacy.
Nurturing Local Growth: Nadabet Indo-Pak Border's Outreach
Beyond preserving its rich history, the Nadabet Indo-Pak Border is deeply committed to supporting and uplifting its neighbouring residents. The border area has become a catalyst for positive change, offering numerous employment opportunities to the local residents, thereby uplifting their economic status. Beyond job creation, the border authorities organise regular awareness and educational programs throughout the year. These initiatives aim to equip residents with essential knowledge and promote overall well-being. Through these sustained efforts, the Nadabet Indo-Pak Border continues to play a pivotal role in transforming lives, making it more than just a historical landmark.
The Nadabet Indo-Pak Border in Gujarat is a living testament to India's resilience, its unwavering spirit, and its commitment to safeguarding its people and territories. It is a confluence of the old and the new, where tales of brave soldiers from the Indo-Pak War of 1971 intertwine with modern initiatives promoting tourism and cultural exchanges. Every corner whispers stories of valour, dedication, and sacrifice. Moreover, the local communities and their rich traditions further enhance its appeal, making it a destination that's not just about border lines but about bridging histories, cultures, and aspirations. It reminds visitors of the indomitable spirit of a nation.
Visiting the Nadabet Indo-Pak Border is an immersion into a deep reservoir of emotions – pride, gratitude, reverence, and a renewed sense of patriotism. It stands as an iconic symbol, capturing the essence of Gujarat and, indeed, India's enduring spirit.